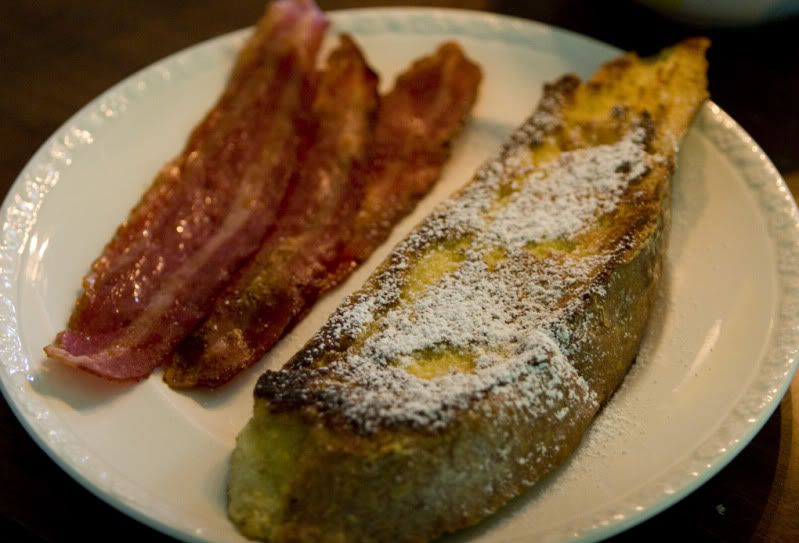 hubby and i love tower cafe and especially their french toast
its made with french bread cut diagonally and it is very custardy so instead of the usually mixture i make for french toast i modified the
creme brule recipe
i use (since thats really just a custard anyway)
i could also tell that it was baked some (otherwise the center would be totally soggy) but it had grill marks so it had to be grilled too
when i first made this i looked online for recipes and while i found a couple that were similar they werent quite right
i did however learn that tower cafe soaks their french toast overnight (i did not do and dont find necessary, but would probably be good) and then bakes then grills it (exactly as i thought!)
anyway on to the recipe:
serves 2-4 depending on appetite
you need:
1 loaf of french bread
2 cups heavy whipping cream
1 cup fat free milk
4 egg yolks
2 whole eggs
1/2 cup sugar
1/4 tsp vanilla
butter
cut the french bread into one inch diagonal slices the night before (you should get four) and leave it out tow dry out. its important that the bread is not so soft
in the morning preheat oven to 350. combine cream milk and vanilla in a sauce pan and cook over medium low heat until it is hot and steamy but not boiling (you can use any combination of dairy that would yield this consistency, this is just what i had. i would probably used three cup of cream but i ran out and only had fat free milk, but the consistency was perfect)
meanwhile whisk the eggs, egg yolks, and sugar until pale yellow (i use an electric mixer)
add just about a cup of the cream mixture while you slowly whisk to temper the eggs then slowly whisk in the rest of the cream
place bread slices in a container that is big enough for them to be flat but there is not too much excess around (i used a lasagna dish) pour the egg and cream mixture over the bread and let the bread soak up the custard mixture. you may need to flip the slices over. (i let mine sit for about 15 mins and would probably let it sit longer next time
spray a baking sheet and place custard soaked bread on sheet. bake in oven for about 15 minutes.
get your griddle or pan hot and butter ready. this requires a bit of butter so i just use the stick and rub it on the hot griddle and place the baked french toast on top. cook each side till brown, adding more butter when you flip sides.
sprinkle with powder sugar or drizzle with maple syrup and enjoy the sweet, buttery, custardy, deliciousness!